12000
Address
No. 0256 San Pedro
Municipality/City
Guagua, Pampanga, Philippines
Telephone Number
(0927) 401 6528 | (0936) 929 8225
Mobile Number
Fax
Business Hours
Monday - Friday 09:00 AM to 05:00 PM
Website
Email
Facebook
Twitter
Google+
Instagram
LinkedIn
Our Firm
Tala Buluran & Co. (the "Firm") is composed of seasoned professionals with extensive experience and knowledge in the field of accountancy, taxation, audit and business advisory. We are committed to helping our clients succeed and assist in their business needs and provide relevant business solutions.
Our firm focuses on providing quality of service in line with our best practices that will specialize and cater the needs of the "Micro and Small-Medium Sized Entities" or known as "MSMEs", start-up businesses and social enterprises in creating sustainable growth of their businesses in the Philippines.
Our Firm aims to:
Be the most trusted and well-respected accounting firm in the Philippines providing quality services to MSMEs, start-up businesses and social enterprises.
Create a community among professionals wherein best business practices will be applied and adopted with various business stakeholders.
---
Our Values
Our Firm believes in the core values which are the foundation for providing quality of service and maintain credibility to our stakeholders.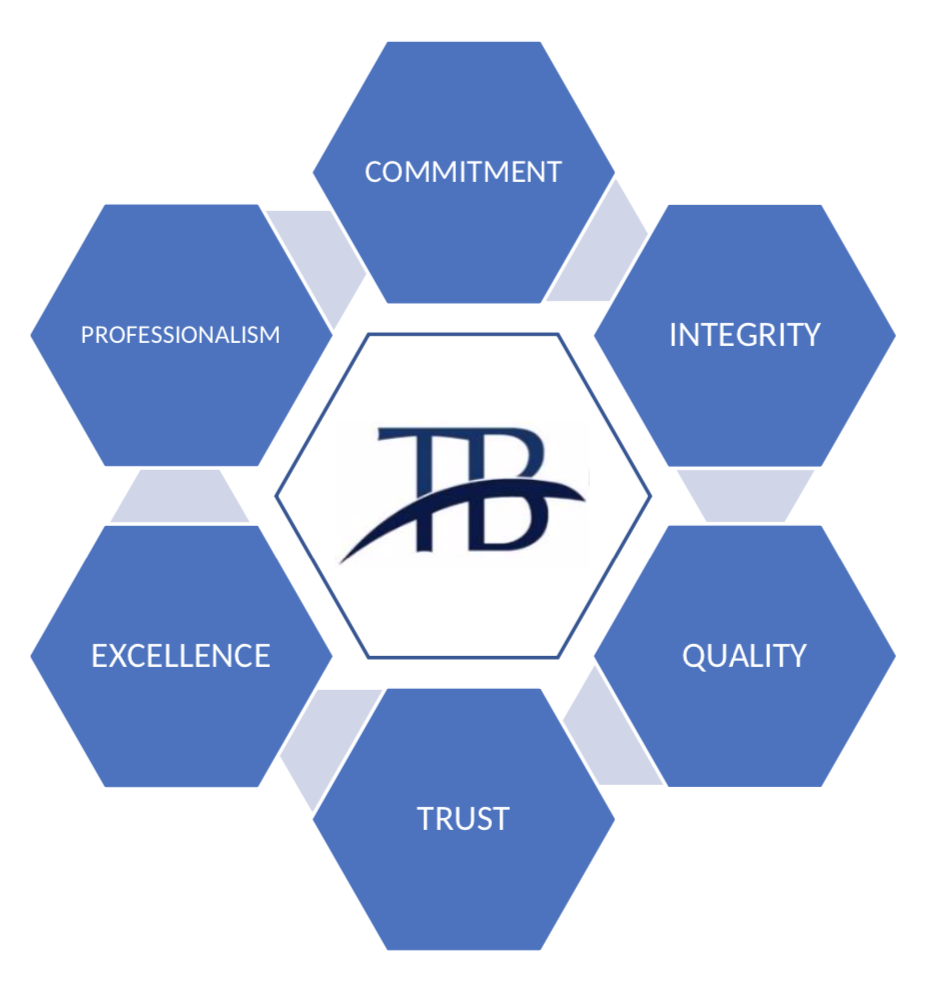 ---
Our Partners
Justine Louis Q. Tala
Certified Public Accountant
Managing Partner
Justine is a co-founder and Managing Partner of the Firm. He has a relevant combined experience of six (6) years in financial and compliance audit and management accounting rendered to industries located in the Philippines, Australia, and New Zealand. He has four (4) years of experience with SGV & Co., one of the leading auditing firms, as a Senior Associate under the Assurance and Global Talent Hub services.
His clients were diverse and involved in Mining and Metals, Hospitality and Leisure (Hotels and Resorts), Broadcasting, and holding companies. He was also a part of Australian audit engagement teams, where he handled mostly mining entities, through Global Talent Hub division of EY Philippines where he performed audit procedures in line with the globally- recognized auditing protocols as mandated by EY.
He graduated from San Beda University with a degree in Bachelor of Science in Accountancy and a member of the Philippine Institute of Certified Public Accountants. He plans to pursue additional certification to further his studies.
Contact Details:
[email protected]
+63927-401-6528
Lot Jeramae C. Buluran
Certified Public Accountant
Co-Managing Partner
Lot is a co-founder of the Firm. She has six (6) years of relevant work experience in external and internal audit, taxation and management accounting. She has four (4) tax seasons with SGV & Co., one of the leading auditing firms, as a Senior Associate under the Assurance services. She also worked as an Accounting Supervisor in a private company handling management reporting and tax compliance.
Her clients were diverse in various industries which include power and utilities, publishing, manufacturing, merchandising and retail, real estate leasing and construction, service providers, investment holdings and SMEs. She was also exposed to handling business process reviews, agreed-upon procedures, tax compliance services and other special jobs.
She graduated from San Beda University with a degree in Bachelor of Science in Accountancy and a member of the Philippine Institute of Certified Public Accountants. She is currently pursuing additional certification to further her studies.
Contact Details:
[email protected]
+63936-929-8225
---
Our Services
We commit in providing our best practices and quality of service viable for business decision-making and individual client needs. Our services include the following:
Accounting and Financial Reporting
Our Firm aims to provide timely financial reports for viable business decision-making and to cater your day-to-day business needs and transactions.
Bookkeeping and Outsourced Accounting Services
Record keeping of day-to-day business transactions and other accounting services.

Data and Account Reconciliation
Prepares reconciliation reports such as bank reconciliation and other accounts analyses.

Management Reports
Prepares periodic (i.e. monthly, quarterly, annual) financial statements and reports with analyses for use in management and business meetings.

Reconstruction of Accounting Records
Reconstruction of books to provide more reliable data and financial information.

Compilation of Financial Statements
Prepares a complete set of financial statements such as balance sheet, income statements, equity statement and cash flows.
Taxation and Compliance Services
Our Firm provides assistance to individuals and business owners in complying their tax requirements and other regulatory compliance.
Tax Return Preparation and Filing
Prepares monthly, quarterly and annual tax returns for submission to the BIR.

Tax Assessments, Refund and Credits
Assist in resolving disputes or tax assessments with the BIR including drafting of protests letter and request for refund or tax credits.

Tax Compliance Review
Provides an overall compliance review of all taxes and lists down tax exposures to improve the tax management of clients.

Tax Due Diligence
Performs a comprehensive examination of the different types of taxes that may be imposed upon individual clients or businesses.

Business Tax Planning
Provides assistance to plan ahead of any impact of taxes on businesses, specifically for start-up companies and companies that need assistance on tax planning.
Audit and Assurance
Our Firm provides audit services to address the most complex issues using best audit practices and independent examination of the business.
Financial (Compliance) Audit
Performs audit procedures and provides an opinion on the financial statements of the clients for regulatory compliance (i.e. SEC and BIR) in line with applicable accounting standards.

Operational Audit
Performs a systematic review of effectiveness, efficiency and economy of operation and internal controls and provides an independent evaluation of business operations.

Special Audit or Investigation
Assist in the prevention, detection and deterrence of fraud by identifying fraudulent transactions that warrant an investigation.

Agreed-Upon Procedures
Procedures are designed and agreed upon with clients based on specific testing and provide only factual findings and does not offer opinions, conclusions or assurances in the final report.
Business Advisory and Consulting Services
Our Firm provides a wide-range of business advisory services tailored to the needs of the clients.
Business Process Review
Assist in the internal controls related to significant processes such as inventory management, sales order, purchases, cash receipts and disbursements, and financial closing process.

Business Consultation
Assist in the business decision-making of our clients to ensure that potential risks are mitigated and profits are maximized.

Professional Business Plan Study
Performs research and analysis of the business opportunities and risks which will be translated into a Business Plan to assist our client in achieving their goals.

Pricing and Cost Analysis Provides assistance in determining which of the product/service segments of our clients should be improved/ discontinued based on performance and overall profitability.

Budgeting and Forecasting
Provides assistance on client budgeting for future projects to minimize cost and maximize profits and perform forecasting of cash flow for assessment of the clients' liquidity.

Other Management Services
Provides assistance on other managerial aspects of the business.
Tala Buluran and Co.
Tala Buluran and Company
Accounting and Financial Reporting
Bookkeeping and Outsourced Accounting Services

Data and Account Reconciliation

Management Reports

Reconstruction of Accounting Records

Compilation of Financial Statements
Taxation and Compliance
Tax Return Preparation and Filing

Tax Assessments, Refund and Credits

Tax Compliance Review

Tax Due Diligence

Business Tax Planning
Audit and Assurance
Financial (Compliance) Audit

Operational Audit

Agreed-Upon Procedures

Special Audit or Investigation
Business Advisory and Consulting
Business Process Review

Business Consultation

Professional Business Plan Study

Pricing and Cost Analysis

Budgeting and Forecasting
Main Branch
No. 0256 San Pedro, Guagua, Pampanga
(0927) 401 6528 | (0936) 929 8225
---
Metro Manila Office
34 Sgt. Esguerra, Brgy. South Triangle, Quezon City 1103